control panel

My Profile
• Information
• Preference
• Signature
• Avatar

Social
• Chatbox
• Friends and Foes
• Memberlist
• Groups
Messages
• Inbox
• PM sent

Other
• Watched topic
May 2019
| Sun | Mon | Tue | Wed | Thu | Fri | Sat |
| --- | --- | --- | --- | --- | --- | --- |
| | | | 1 | 2 | 3 | 4 |
| 5 | 6 | 7 | 8 | 9 | 10 | 11 |
| 12 | 13 | 14 | 15 | 16 | 17 | 18 |
| 19 | 20 | 21 | 22 | 23 | 24 | 25 |
| 26 | 27 | 28 | 29 | 30 | 31 | |
Calendar

Please be sure to read this very carefully and not just skip though it
*****************************************************

HOW TO BECOME A FULL CLUB MEMBER
Note that you need to register with the forum before you can become a full member
(Believe it or not we have actually had people sending membership money and they haven't even registered on the forum!)
New membership subscription is currently:-
£10.56 and you can choose between a FREE enamel Club pin badge
or a sew on Club patch - (NEW members ONLY)
- see the "Club merchandise" section for
pictures of the badges.
Membership renewal is £6.42 per year.
You will NOT find a cheaper subscription Suzuki Intruder Owners Club any where on the internet!.
ALL subscriptions MUST be made in
pound sterling.
There are 3 ways to pay for membership.


option 1 - you can use the paypal subscription button on the forum.


option 2 - Via bank transfer to:- Lloyds Bank
Account number:-  19127368
Sort code:-  30-92-15


option 3 - Via Cheque - Please see details lower down.

You DO NOT need a paypal account to use it, it will still accept credit and debit cards.
OPTION 1
Use the paypal button on the righthand side of the forum.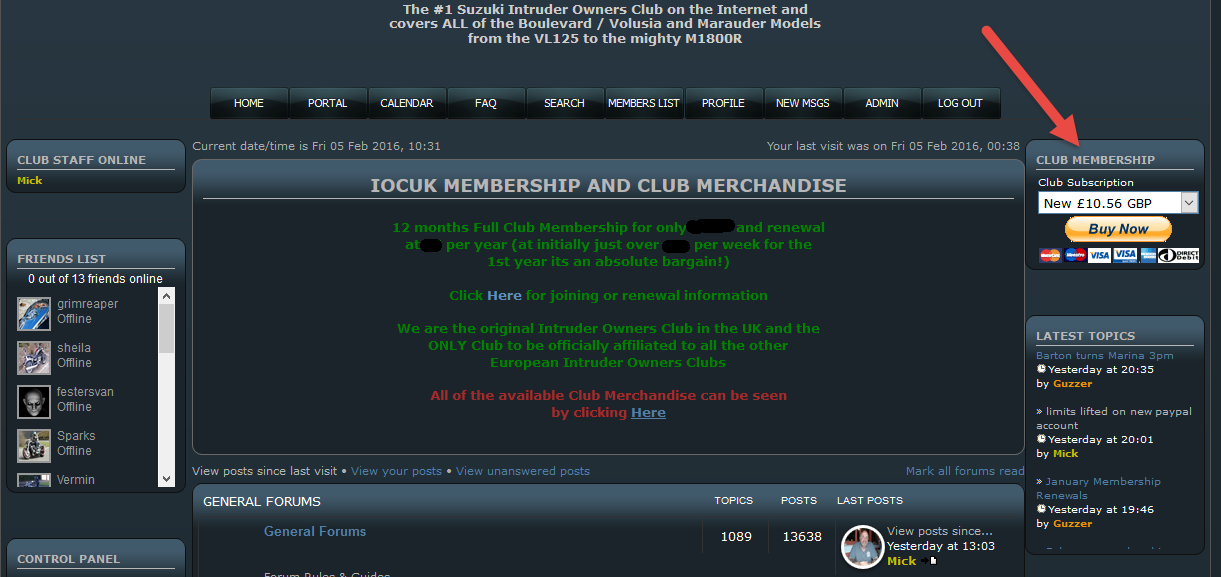 And use the drop down menu to select
NEW
for new membership or
RENEWAL
if you are renewing your membership.
Then click the
BUY NOW
button and it will take you to paypal.
Please write a paypal note with your full name, address, postcode, your forum username
and the type of FREE badge (NEW membership ONLY) you require.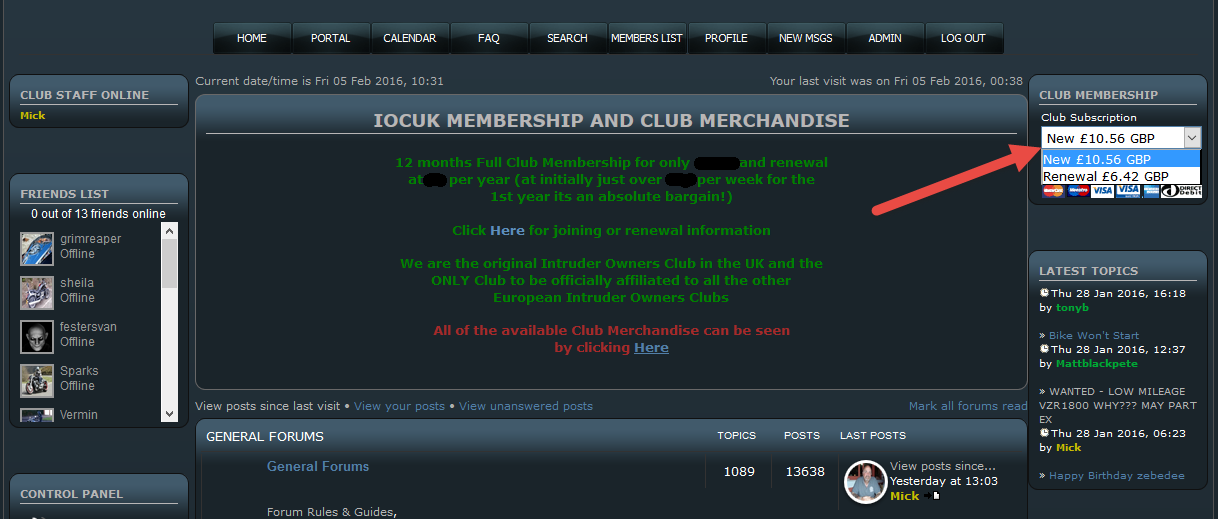 You DO NOT need a paypal account to use it, it will still accept credit and debit cards.
The address for sending cheques and made out to INTRUDER OWNERS CLUB UK is:-

(Please include a cover note with your Name, Address, Forum userrname
and details of what the cheque is for)

Vic Grinyer
6 Winton Lodge
Arun Close
Durrington On Sea
Worthing
West Sussex
BN13 3HW
As a non profit making group ALL subscriptions go back into the Club and Site in one way or another.
Your subscription can easily be made back by just using one of the companies in the discount section
or by downloading one of the Intruder Service Manuals available on the site.
If you have any problems with payment or full membership activation please contact the
membership secretary
Fairweatherrider (Vic)
and
NOT Admin
You can PM the Membership Secretary by clicking on the link below:-
http://www.suzuki-intruder.org/privmsg?mode=post&u=1392
Once you have sent payment you MUST PM Vic (Membership Sec) with the details below:-
1. YOUR FORUM USERNAME.
2. WHETHER PAYMENT IS FOR A NEW MEMBERSHIP OR A RENEWAL.
3. WHICH FREE BADGE YOU REQUIRE - NEW MEMBERS ONLY.

FAILURE TO PM Vic WILL RESULT IN YOUR MEMBERSHIP NOT BEING ACTIVATED OR RENEWED.
All subscriptions are none refundable
Allow at least

24 hours

for your membership to be activated as we are only human and
have jobs and families. You will not be informed when your full membership has been activated,
but once it has your username will change to GREEN and you will be able
to access the full members area etc.
As above, please PM Vic on this link.....
http://www.suzuki-intruder.org/privmsg?mode=post&u=1392
*********************
PLEASE NOTE:- It has come to our attention that for some strange reason, the Paypal button is
for buying membership is not showing up for a few people, so if that is the case for yourself,
please PM Vic on the link above and he will provide you with a link for it.
*********************

______________________________________________________________________
Mick - Admin

There are many "HOW TO's" and info about the forum in the link below.

Site Questions, News & Suggestions



Admin










---
Permissions in this forum:
You
cannot
reply to topics in this forum